9 Summer Grilling Recipes You'll Savor
Tags :
grilling, 
recipes 
Summer Grilling Recipes
There's never a wrong season (or reason) to grill, but today we're dishing up the best summer grill recipes and grilled steak dinner recipes to elevate your grill flavor, in more ways than one!
Easy Grill Recipes
Every grill master needs a few favorite easy grill recipes to use in a pinch. Recipes that require little prep, common ingredients, and clear, easy directions.
With just 7 ingredients and 20 minutes to prep after thawing, this is one easy grilling recipe worth a spot near the top of your list. Kansas City Strip Steak is served atop a mouthwatering concoction of sautéed sliced red onion, wild mushrooms, Dijon mustard, balsamic vinegar, and beef stock. 
We love the simplicity and flavor of this delicious recipe. Grilled steak seasoned with brown sugar, freshly ground coffee, garlic powder, onion powder, kosher salt, crushed red pepper flakes and ground cinnamon.
Everyone loves "surf and turf," but many recipes can be time consuming, and some tend to be more challenging to prepare. If you've been looking for simple, easy grill recipes, look no further! This recipe requires just 10 minutes to prep and 15 minutes to grill and is loaded with succulent flavor.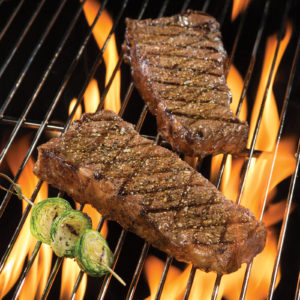 Best Summer Grill Recipes
The best summer grill recipes are made of fresh ingredients, high quality meats and clear, concise instructions to help you succeed and achieve what we like to call taste greatness.
Nothing says "summer" quite like great kabobs, and this recipe does not disappoint. Pieces of beef tenderloin are marinated in a flavorful blend, then skewered with small red potatoes and baby Portabella mushrooms and grilled to perfection.
Ground coriander, ground cumin, chipotle chilies in adobo sauce, limeade concentrate, seasoned salt, fresh cilantro, and softened butter work together to fire up a unique citrus and spice flavor combo you'll crave over and over again.
Who says burgers are for kids? With a sophisticated ingredient list that includes cracked black pepper, black truffles, Vidalia® onion and more, we can practically guarantee this burger will elevate your grill game…and your mood.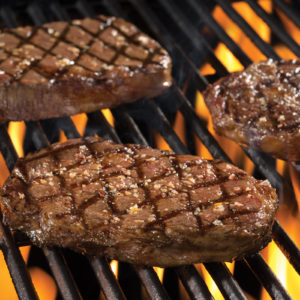 Grilled Steak Dinner Recipes
The best grilled steak dinner recipes involve top quality steaks and sides that enhance the flavor of the main entrée. Consult your local harvest forecast for in season fruits and vegetables and choose grilled steak dinner recipes that incorporate whichever items are currently in season. A few of our favorites include:
Thick cut bacon is cooked with sweet, white onion, red onion, ripe tomatoes, beef stock, red wine, hot sauce, fresh sage, salt, and pepper, and served with grilled ribeye steak and grilled asparagus.
Kansas City Strip Steaks are marinated, then grilled, sliced, and served on warm tortillas with poblano pepper, red, yellow, or green pepper, red onion, queso fresca and a masterful blend of seasonings. Perfection on a plate, coming right up!
Tender, juicy Kansas City Strip Steaks are served with a surprisingly flavorful "masher": russet potatoes mashed with heavy cream, butter, blue cheese, and the perfect blend of seasonings.
You're ready for anything summer could throw at you! Share with your friends, then tell us your favorite summer grill recipe in the comments!