Almost Labor-less Cookout Ideas
Tags :
entertaining, 
recipes 
Everyone jokes about laboring over a hot stove occasionally, but we can all agree that's the last thing anyone really wants to do in the dog days of summer. So, to save you time and energy, we've rounded up our favorite cookout menu ideas for all your end-of-summer soirees.
Cookout Menu Ideas
To build a winning cookout menu, begin by choosing your entrée. We may be a little biased, but we think steak is the perfect choice. Choose cuts of steak that are high quality and full of flavor. Filet Mignon, Ribeye, Kansas City Strip, and Porterhouse are all excellent choices. Don't forget the burgers and hot dogs though. Perfect for kids and adults alike.
Choose recipes with few ingredients and a short amount of prep time, like one of our summer favorites. Each of these stellar cookout entrée recipes are ready in about 30 minutes and deliver an explosion of fresh flavor: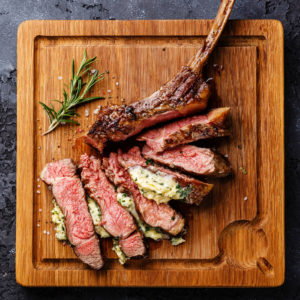 Easy Cookout Food
If you're looking for a truly simple cookout, go for iconic Steakburgers and hot dogs. They feed a crowd, require little to no time in the kitchen, and there's no shortage of creative recipes and toppings you can add if you want to elevate your cookout menu.
If you'll be serving burgers on your menu, we recommend trying either Hawaiian Steak Burgers or the All-American Double Decker. If hot dogs are on the menu, follow our pro tips here to put together the hot dog bar to end all hot dog bars.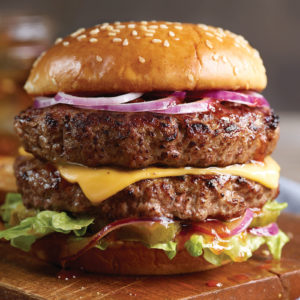 Cookout Ideas
Once you've settled on the main entree, it's time to choose side dishes! The whole point of a cookout is to eliminate time spent in the kitchen, so it's best to opt for easy recipes or dishes you can heat and serve.
We love Baked Potato Casserole, Creamed Spinach, or Grilled Garden Salad. For a more casual cookout featuring grilled burgers or hot dogs, consider creamy grown-up Mac and Cheese, or KC Style Pit Baked Beans.
If you've made it this far, the odds are good you've firmed up your menu and are ready to order your steaks online and gather the other ingredients needed for your big cookout. Great work! You've learned how easy cookout food can be, and now you're ready for less time in the kitchen…and more time in the pool!