Beef, Beer and Bacon Soup Recipe: National Soup Month
January is National Soup Month. And lucky for you, our Kansas City Steak Cook Team is sharing their favorite steak soup recipes.
Chef Dave had us at beef, but then he went ahead and threw in beer and bacon for good measure. We're sold.
You will be too.
Happy soup eating!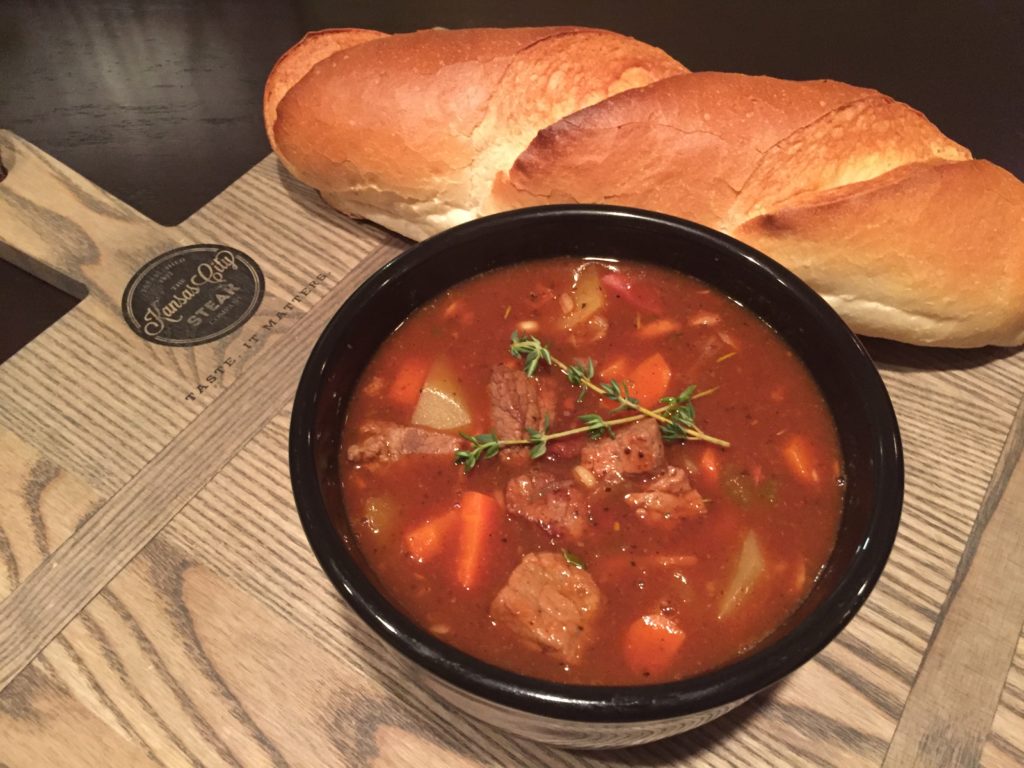 Beef, Beer & Bacon Soup Recipe
Ingredients:
2 lbs The Kansas City Steak Company Top Sirloin Steaks, cubed
4 large carrots, sliced
2 celery stalks, sliced
½ yellow onion, diced
4 whole baby bella mushrooms, sliced
5 cloves garlic, crushed
12oz beer (any lager or ale you have on hand)
1 small can tomato paste
1 packet The Kansas City Steak Company Steak Seasoning
Salt and Pepper (to taste)
32oz beef broth (reserve 8oz)
2-3 sprigs of fresh thyme
2 bay leaves
1 fresh rosemary diced
¼ cup barley
½ tbsp. corn starch
½ lb thick cut bacon, chopped
Instructions:
In a large skillet over medium high heat, cook the bacon. Keep the grease in the pan.
Add the cubed beef to the pan to sear in small batches. Cook on all sides until browned. Set aside when all meat is browned.
Add the onions and celery to the pan, leaving the remaining meat drippings in the pan.
Cook for 5-7 minutes until translucent. Add in the tomato paste and crushed garlic. Stir continuously for several more minutes. Pour in the beer and give it a good stir, scraping the pan to incorporate any remaining meat bits. Add in the entire packet of Steak Seasoning, the Worcestershire sauce, and the herbs. Add in all the beef and the broth (save back 8oz) bring it all to a boil, then cover and simmer for 20 min.
Add potatoes, carrots, mushrooms, and barley and cook for 30 min uncovered, stirring constantly for 5min to ensure nothing sticks to the bottom of pan.
Mix together the cornstarch and the remaining 8oz of broth, and then while stirring, add into the soup. Add chopped bacon. Simmer for another 30 min or so until vegetables tender. Salt and Pepper to taste.
Serve with a nice crusty bread and enjoy!