Chili Bisque Recipe
As we continue National Soup Month, our Kansas City Cook Team is sharing their go-to steak soup recipes.
Today, Chef Darci Bos lets us in a family secret recipe, her Chili Bisque.
Doesn't this make you want to light the fireplace, grab a good book and spend the weekend in the warmth of your home and this lovely bisque? Or is that just us?
We imagine we're not alone.
Enjoy!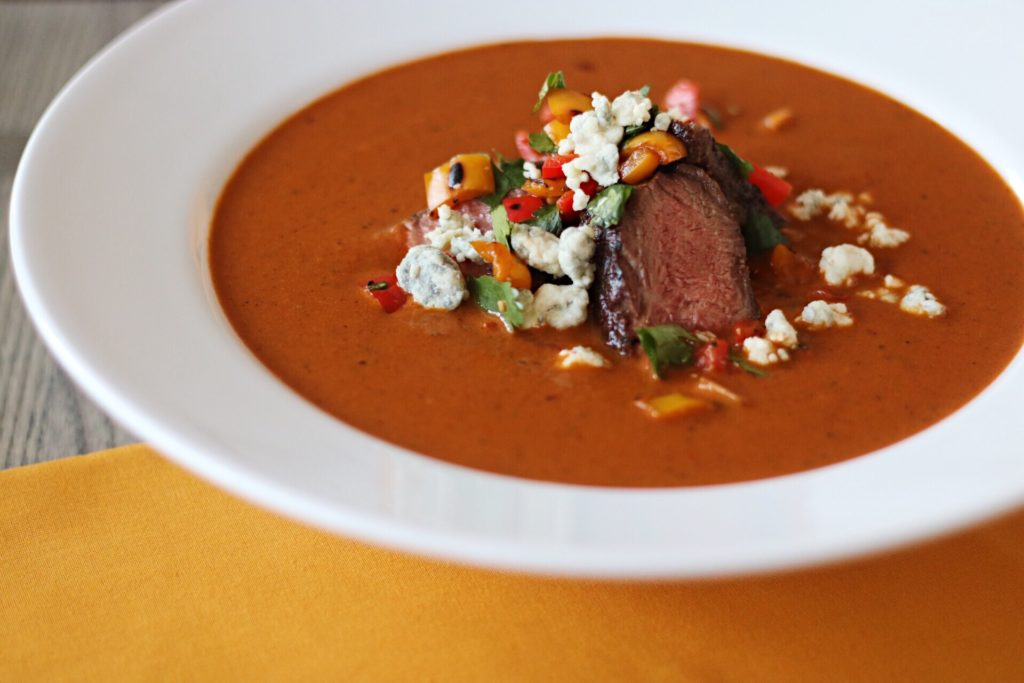 Chili Bisque Recipe

Serves 4-6
Ingredients:
5 – Large Tomatoes
2 – Red Peppers
2 – Red, Orange, Yellow Sweet Peppers
6 TBS – Salted Butter – divided
2 TBS – Dark Brown Sugar
1 – Ancho Chili
4 Tsp. – Garlic (minced) – divided
1 – Onion (Diced)
2 Tsp. – Worcestershire
1 Tsp. – Cinnamon
2 Tsp. – Ground Mustard
2 TBS – Chili Powder
2 Tsp. – Pepper
1 Tsp – Salt (or to taste)
5 Cups – Beef Stock
6 oz – Tomato Paste
2 Tsp. – Basil
2 Tsp. – Thyme
16 oz – Kansas City Steak Company Super Trimmed Filet Minion
½ Cup – Heavy Cream
1 Tsp. – Lime Juice
1 Tsp – Cilantro
¼ Cup – Blue Cheese Crumbles
Directions:
Start off by grilling the Tomatoes, Red Peppers & Sweet Peppers until blackened.
In a large pot, sauté 4 TBS Butter & Brown Sugar until foaming.
Add to pot Ancho Chili, 2 Tsp. minced Garlic, Onion & Worcestershire and simmer for 3 minutes.
Stir in the Cinnamon, Mustard, Chili Powder, Pepper & Salt. Mix well.
Add to pot the grilled Tomatoes and Red Peppers. Stir in Beef Stock, Basil, Thyme and Simmer 20 minutes.
Add contents of pot to a food processor or blender and puree. Pour pureed mixture into a fine mesh colander over pot, and push liquid through so that there's only the bisque in the pot. Discard remains left in colander.
Stir heavy cream & tomato paste in with bisque over low heat and let simmer until ready to serve.
For the Filet: In a Cast Iron, add 1 TBS Olive Oil and heat over medium/high until smoking. Salt & Pepper both sides of filet. Cook Filet 3 minutes each side, covering with lid both sides.
Then add 2 TBS butter and 1 tsp minced garlic to cast iron and keep spooning the melted butter and garlic over tops of filet an additional 1 – 2 min.
Remove and let steak rest for 5 minutes. Then slice into bite sized strips. (Shown larger for picture)
Pepper medley: Chop the grilled Sweet Peppers. Stir in the lime juice, 1 Tsp minced garlic and cilantro.
To Serve: Pour bisque into bowl. Top with Filet, Sweet Pepper Medley & Blue Cheese Crumbles.
Enjoy!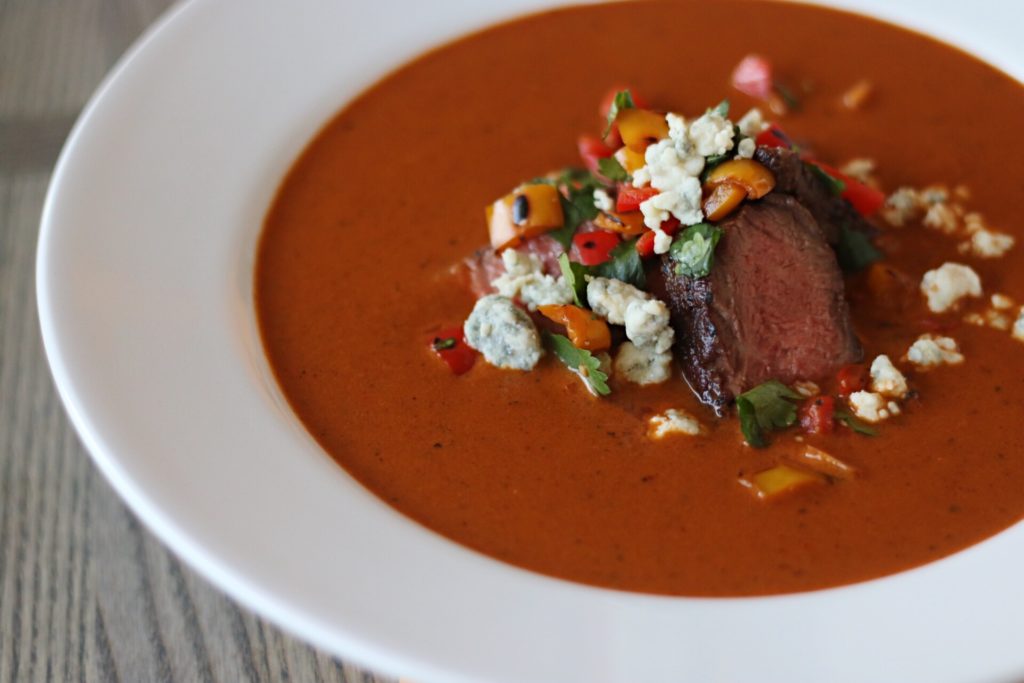 Save