Coffee Crusted Crown of Filet Recipe
Tags :
filets, 
recipe 
Throughout the Madness of March, we've asked you to submit your favorite Filet Mignon recipes as part of our #NCDoubleFilet contest. And you've responded the way we knew you would, with incredible enthusiasm.
With the Final Four set, we felt it was our turn to share some filet recipes with you.
It turns out our Kansas City Steak Cook Team knows a thing or two about Filet Mignon.
First up this week is Alex Callegari. We're shocked he's sharing the recipe which won him $1,000 cash in the Kansas City High Steaks Invitational, but here it is.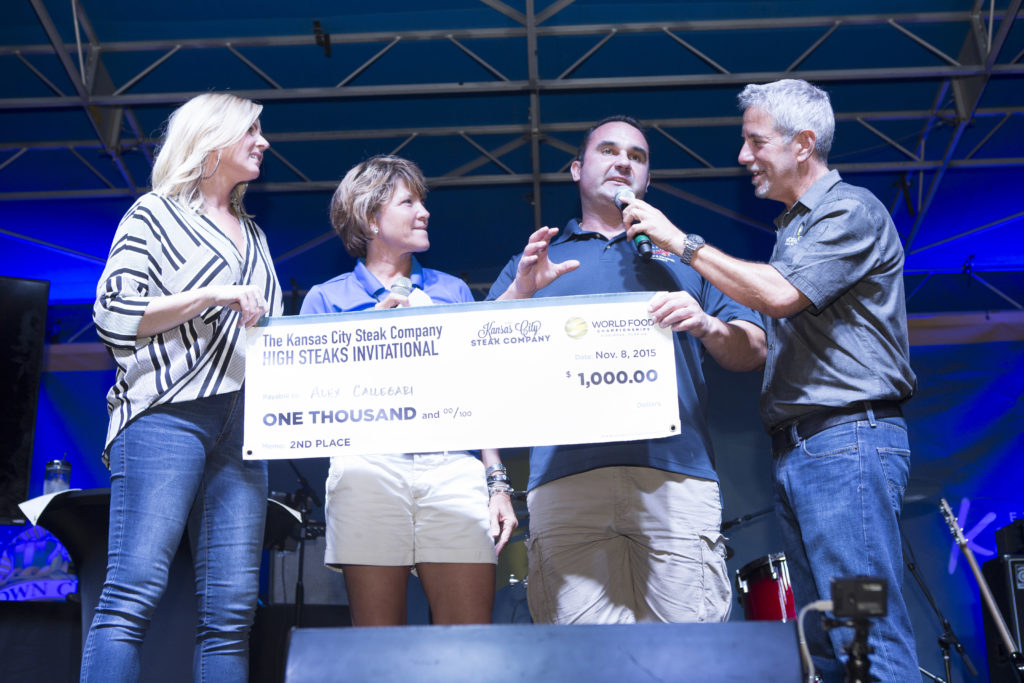 Drop what you're doing, copy this word for word and make it as soon as possible. But only if you like gorgonzola, bacon, wine, onions and our tender Crown Filet Mignon.
Take it away Alex, thanks for making our Monday.
Coffee Crusted Crown of Filet Mignon
Featuring Kansas City Steak Company's 10 oz. Crown Filet Mignon in a creamy gorgonzola sauce and topped with candied apple wood smoked bacon, Marsala wine braised Cipollini onions.
Ingredients:
4 10 oz. Kansas City Steak Company Crown Filet Mignon
6 oz. gorgonzola dolce
½ lb. apple wood smoked bacon
10 Cipollini onions
6 oz. heavy whipping cream
¼ cup brown sugar
1 cup sweet Marsala wine
½ stick unsalted butter
¼ cup vegetable oil
¼ cup extra virgin olive oil
Seasoning mix for 4 steaks:
1 Tbsp. course sea salt
1 Tbsp. fresh ground black pepper
1 tsp. espresso grounds
1 tsp. brown sugar
1 tsp. onion powder
Instructions:
Preheat oven to 450 degrees.
Peel the outer layer of the Cipollini onions and add them to a medium size sauté pan and cook with olive oil over medium heat until they begin to soften up. Approx. 5 min. Add Marsala wine and allow onions to braise in the pan until almost all of the wine has evaporated and the onions have begun to caramelize. Approx. 15 min.
Cut apple wood bacon into small uniform size pieces. Add to a hot sauté pan until fat renders out. Add sugar to pan. Using a spoon, move around until bacon becomes candied.
Season the tops and bottoms of the filets with seasoning mix liberally. In a searing hot cast iron pan, add vegetable oil. Sear tops and bottoms of the Crown Filet until a crust has formed on both ends. Place filets on a sheet pan in the preheated oven for approx. five minutes for medium rare, seven minutes for medium. Use a meat thermometer and cook to an internal temp of 135 degrees.
In a sauté pan add the Gorgonzola and cream. Cook down until it has thickened and has an even consistency.
Assembly:
Sauce the bottom of a plate with the Gorgonzola cream sauce
Place the Crown of Filet Mignon in the center of the plate
Top with candied bacon and Cipollini onions
Enjoy with friends and family!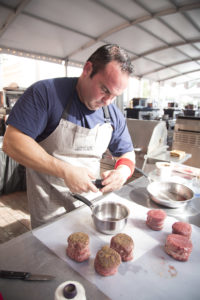 Source: Alex Callegari
Kansas City Steak Company Cook Team