Crave-worthy Cookout Food: Everything You Need to Know
Tags :
entertaining, 
recipe 
From the satisfying sizzle of the grill to the mouthwatering burgers and steaks cooked to perfection, there's nothing like a cookout to bring everyone together.
Cookout Burger
Great cookouts feature great entrees like steaks and burgers. High-quality beef, complementary seasonings and grilling techniques are all necessary components for a winning cookout burger.
Begin with high-quality steakburgers that contain enough fat to give your burgers great flavor. Our juicy Classic Steakburgers are formed from premium corn-fed beef and are a guaranteed hit.
Add seasonings, but remember the goal is to complement the natural flavor of the beef without overpowering it.
For tips and best practices on how to grill burgers, visit our complete guide here.
Cookout Burger Recipes
There's more to crafting a great cookout burger than simply the burger patty itself! Your choice of toppings can make or break any burger. Take some time to experiment and try new cookout burger recipes. Choose a recipe (or two) that strikes your fancy, then build out the rest of your cookout menu around those entrees.
Cookout Food
Cookout food is more than just burgers and hot dogs. While those can be a simple go-to option, broaden your cookout repertoire and consider the delicious options available for your dining pleasure. Surf and turf, grilled chicken and steaks are all crowd-approved cookout food options with plenty of variety.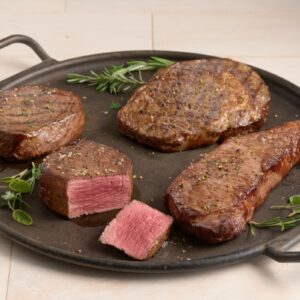 Cookout Food Ideas
When choosing which steaks you'll serve at your cookout, it is tempting to choose one particular cut for everyone at your table. However, if you want to take your cookout food to the next level, it's best to opt for some variety. The Essential Duo Junior is a premium steak package which includes everything you need for an impressive steak cookout: Filet Mignon, Top Sirloin, Ribeyes and Kansas City Strips.
Cookout Menus
There's no rule about cookout menus that says you can't serve a variety of expertly grilled meats to your guests, so why not mix things up a little? Surf and turf is a crowd pleaser for a reason! Try North Atlantic Lobster Tails or Maryland Style Crab Cakes.
Cookout Menu Ideas
Our All American Cookout Special Value Pack is a great choice for your next cookout, featuring T-Bone Steaks, Classic Steakburgers, Boneless Chicken Breasts and All-beef Jumbo Hot Dogs.
Round out your menu with delicious sides designed to complement your main entrees and keep you out of the kitchen. Our heat and serve customer favorites include: Twice Baked Potatoes with Cheddar and Bacon, Barbecue Beans and Mac & Cheese. Top it all off with a decadent dessert! Try Chocolate Truffle Lava Cakes or Chocolate Chip Cookie Cups.
No matter when you plan to host your cookout, you're ready to take the experience to the next level! Tell us your favorite cookout food in the comments below!