Family Traditions: Elevated Easter Meal Ideas
Tags :
easter, 
entertaining 
As spring and warmer weather approach, it's time to resurrect those family traditions that make Easter one of our favorite holidays. Quality time with family and friends, brightly colored Easter eggs and gift baskets, and of course, delicious Easter meals.
Traditional Easter Dinner
Traditional Easter dinner consists of a hearty main dish, along with a wide assortment of spring centered and flavorful side dishes, rolls and dessert. Many families build their Easter meals around the traditional crowd-pleasing Easter centerpiece: Spiral Sliced Ham. Our mouth-watering, hickory-smoked, brown sugar-cured Spiral Sliced Ham is the perfect main entrée for your traditional Easter dinner. Slow smoked for tantalizing flavor and shipped straight to your doorstep, our Spiral Sliced Ham will deliver full bellies and happy hearts…without a trip to the grocery store.
Easter Meal Ideas
Spiral Sliced Ham is one traditional entrée, but the best part about family traditions is that your Easter meal ideas are tailored to your preferences. Prime Rib Roast is another popular main entrée for Easter meals, and it's no surprise that many family traditions include this savory, rich roast. Our Prime Rib Roasts can be purchased in a variety of sizes, so whether you plan to dine with 2 or 20, your crew won't go wrong with our hallmark offering.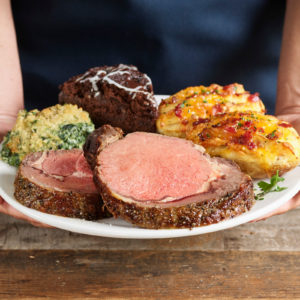 Easter Meals
There's never a bad time for steak, and that includes Easter meals! Every family tradition starts somewhere. Why not elevate your Easter, and break out the steak? Many families have chosen to go this route, and to be honest, we couldn't be happier about it.
If you're thinking of making the switch, or continuing your Easter tradition, our Essential Duo is the perfect choice for you. Boasting a whopping 10 steaks, you'll enjoy 2 (6 oz) Super Trimmed™ Filet Mignon, 2 (6 oz) Top Sirloin, 2 (10 oz) Boneless Ribeyes, 2 (10 oz) Kansas City Strips, and 2 (18 oz) Porterhouse Steaks.
Round out your Easter extravaganza with a few of our succulent heat and serve sides: Potatoes Au Gratin, Twice Baked Potatoes with Cheddar and Bacon, Creamed Spinach, Crispy Asiago Asparagus, and more. Don't forget dessert! Choose from our Lemon Cream Cake, Mississippi Mud Cake, or New York Cheesecake, among others!
Tell us your favorite family Easter tradition in the comments below, then place your order for direct to doorstep delivery before Easter!