Feature Product of the Month – Lamb
Tags :
holiday, 
product of the month 
We tend to associate Christmas time with roast prime rib of beef, Thanksgiving with roast turkey and glazed ham, Saint Patrick's Day with corned beef, Cinco de Mayo with enchilada's and taco's and the best is left for Easter. A delicious, aromatic, succulent, roast leg of lamb or an elegant, perfectly seasoned, roasted rack of lamb. Both are examples of exquisite, traditional Easter meals that surprise and delight the palate with every bite.
The question often arises; "What is the difference between lamb & mutton?" Lamb is a sheep that is less than a year old. Older sheep are considered mutton and have a much stronger flavor and tougher meat that many find distasteful. Mutton was a cheap food source for the military during WWII, and it was often overcooked and dry. Many American servicemen had their fill of mutton, coming home to declare it off-limits in the family home and decisively announced they did not care for lamb. It is doubtful they had tried American Colorado lamb.
American lamb is just that, it has been raised in the U.S. The best quality American lamb comes from Colorado. This breed is grass and grain fed, thus producing the largest in size and many say the highest in quality and consistency. American lamb tastes less "gamey" compared to imported lamb from New Zealand. Their disallowance of some critical grains means it is cheaper to raise but not quite as enjoyable in taste and texture at the table as American Colorado lamb.
A regular meat thermometer can help you out. Be sure to stay off the bone. 125° for rare, 130° for medium rare, and 135° for medium. When you remove the lamb from the oven, whether it is a rack or a leg, cover it tightly and immediately with foil to let it rest for a minimum of 15 minutes. While the lamb is resting, prepare a pan gravy with the pan fond. Place the roasting pan on 2 hot burners, add white wine and a little chicken stock and scrape the fond off the bottom of the pan. If you like a thicker gravy, start with a little flour. So challenge the skeptics and try Colorado American Lamb for Easter this year.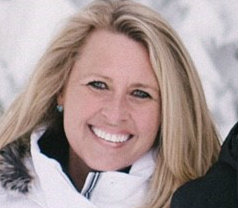 Source: Amanda Bushong
Director of Merchandising at The Kansas City Steak Company