Fire Up Fall Flavor
Tags :
recipes 
Fall is here, and it's the perfect time to enjoy gathering with friends and family on the patio. These fall dinner ideas are the perfect way to fire up fall flavor in your own backyard.
Fall Recipes
The best fall recipes are filled with comforting flavors and require a minimal investment of your time. Recipes incorporating fall ingredients such as apples, bell peppers, broccoli, brussels sprouts, mushrooms, squash, pumpkins and onions are a great place to start. Root vegetables are also great ingredients for fall recipes.
Anchor your fall recipes with a worthy centerpiece entrée, like Super Trimmed™ Filet Mignon. Known for its fork tender texture and buttery smooth flavor, Super Trimmed™ Filet Mignon will spark your imagination and elevate the rest of your meal. If you're feeding a crowd with varying taste preferences, opt for The Essential Duo, which features an assortment of steaks including Filet Mignon, Ribeyes, Strip Steaks and Porterhouse Steaks.
Next, choose a recipe that makes your mouth water. Try one of our customers favorite recipes or use one of your own!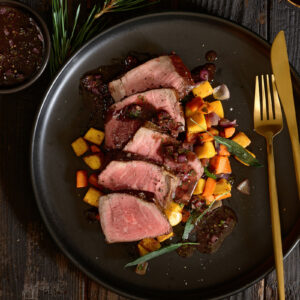 Fall Dinner Recipes
Every meal is an opportunity to gather around the table and be thankful as you enjoy great food with those you love. It makes sense to plan ahead to achieve delicious meals filled with flavor and comfort!
Once you've chosen your main entrée and recipe, it's time to select your fall side dish recipes. Bear in mind the overall flavor profile of your dinner, then select a couple of side dishes that complement your main dish. Be sure to look at the ingredients list for each recipe and choose dishes that feature in season ingredients!
Fall Dinner Ideas
For steak lovers who are hearty eaters, you can't go wrong with fall dinner ideas crafted around an inspiring cut like the Tomahawk Steak. Guaranteed to make an impact, this long-bone 34 oz. steak is one of a kind and sure to make a lasting impression. Share it and pair it with cold water North Atlantic Lobster Tails for a stellar surf and turf.