Grill Master's Guide to the Best Mother's Day Gift Baskets
Tags :
Gifts, 
mother's day 
Mom.
There's no one else like her. She is the first woman you ever loved, your most loyal friend and your biggest fan, all rolled into one. She cried with you over skinned knees and first heartaches, broken friendships and exhilarating triumphs.
She's the one who can always make you smile when you're having a rough day. The one you can count on to cheer you on, no matter the odds. The one who will always call you her baby, and the one who bristles if she even thinks someone is giving you the runaround.
She carried diaper bags – and duffel bags – for hundreds of hours. She drove countless miles to and from sports practices, rehearsals, and late-night study sessions. She has cooked thousands of breakfasts, lunches and dinners. Packed endless lunches and baked dozens of birthday cakes.
And now, the day we set aside to honor mothers everywhere is just around the corner. Before you find yourself sprinting to the nearest grocery store to pick up a bundle of overpriced roses for your last-minute Mother's Day gift, stop and take a few minutes to really think about all that she's done for you – and what will really make her day special.
Mom has sacrificed so much of her life for you. Her energy, her time, her youth. This year, forego the cheesy gift ideas and give her what she really wants more than anything else: quality time with you – and a mouthwatering steak, of course.
After all, nothing says, "I love you, Mom" like a Mother's Day gift basket packed with savory goodness and the promise of time spent with her baby while you prepare a delectable steak dinner for her! We know she deserves nothing but the best for raising you, so we've pulled out all the stops while putting together our Grill Master's Guide to the Best Mother's Day Gift Baskets.
Choose Your Gift
Yes, we know. The best gift is quality time with you and it's the thought that counts, but trust us: Mama loves her steak, too. First, choose one or two main items to build your gift basket around. Does Mom love a succulent, thick Super Trimmed Filet Mignon? Or is she more of a Kansas City Strip and Lobster Tail kind of gal?
While a perfectly aged steak might not make the prettiest gift basket present, our perfectly presented Gift Cards and Certificates do! With the option to choose Mom's favorite item or the value of your choice, you can't go wrong in our book.
Our Monthly Gift Clubs are another "mom favorite." We will send our mouthwatering steaks right to Mom's door for three, six or twelve months. It's the gift that keeps giving – and you'll reap all the benefits.
Fill Your Basket
Once you've selected your main gift, it's time to think about rounding out your basket. We love this rule of thumb for every thoughtful Mother's Day gift basket: Something to eat, something to drink, something she'll love and something to make her think.
You could go a few different directions here, but we've taken the time to put together a short list of our favorite gift basket "go-to's." Choose something from each of these categories to pair with a thoughtful gift card for the perfect Mother's Day gift basket sure to make Mom feel appreciated – and then some.
You've got the "something to eat" covered, but why not pair it with our famous Kansas City Steak Seasoning? Our steak seasoning is well-loved by many, tastes great on pretty much everything from steak to chicken or fish, and the convenient size is perfect for any premium gift basket.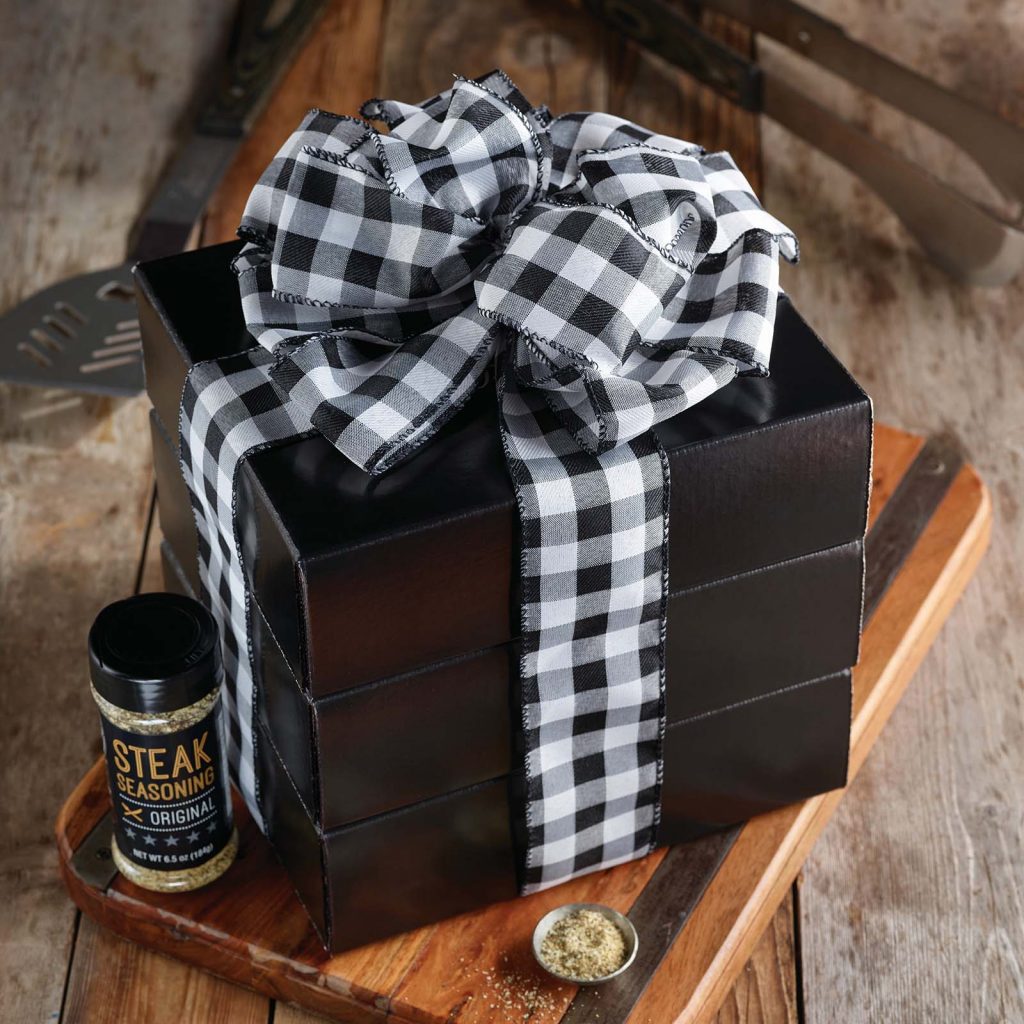 What mom doesn't love coffee…or wine? You know yours best – what would she love most? Choose a bottle of her favorite red or white, or order her favorite coffee roast and include it in your gift basket with a custom coffee mug.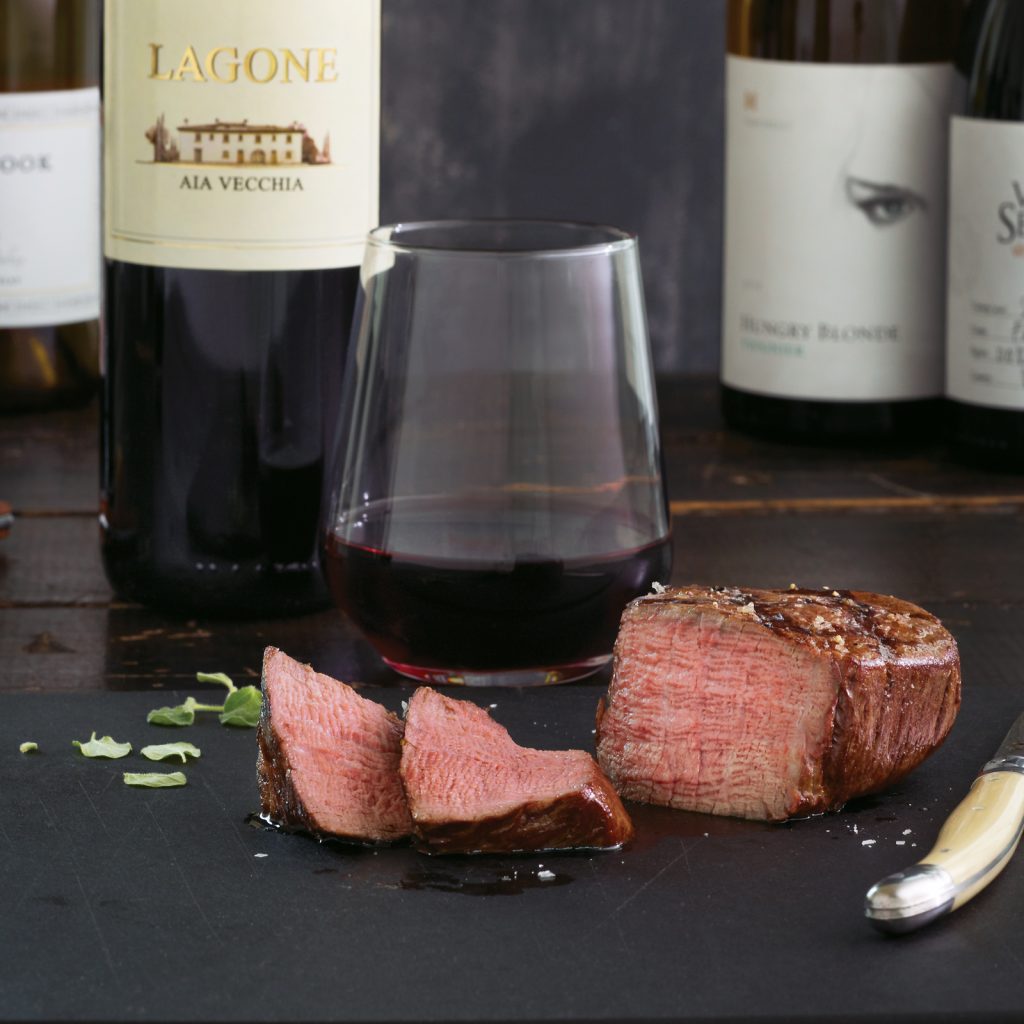 You know your mom best – what does she love to do? Spend a little time and really think about what she enjoys doing. Is she a baseball fiend? Buy a pair of tickets and tuck them into her gift basket. Does she adore board games? Buy one or two and include them in your gift. Do you know her favorite perfume or scent? Choose a high-end candle with her favorite scent profile. She will appreciate the attention to detail and your thoughtfulness!
Something to Make Her Think
Does Mom have a favorite author? Include a copy of his or her newest release in your Mother's Day Gift. Has she expressed an interest in a particular politician or historical figure? Order the acclaimed biography and include a handwritten note to Mom in the front cover. She will appreciate that you took an interest in her interest!
Choose Your Basket
The final step to the best Mother's Day gift basket is to choose – you guessed it – the basket! A woven basket is the more traditional choice, and if you decide to go this route, make sure you choose a basket that is medium sized and can hold several items. Consider what you plan to include, and make sure the basket won't be overfilled (or underfilled) with those items. If you find the perfect basket, but discover that it is a tad too large, you could always include a few choice pieces of fruit or some of Mom's favorite chocolates to fill the open space.
An alternative option to the traditional basket is a well-tailored tote bag. Find out who her favorite handbag designer is, then examine their latest line for tote bags. While this may cost a little more than a traditional basket, Mom will be so appreciative of your additional effort.
Choose Your Card
Your gift is ready! Now it is time to find the perfect card! There are thousands of greeting cards available, but we recommend steering clear of the humor section and choose a more sentimental greeting card to couple with your Mother's Day Gift Basket. After all, Mom has given so much without complaint. The least we can do is find a card that scratches the surface of how we feel about her.
You're ready for the real deal! It's time to decide what type of gift card or certificate is perfect for Mom, then place your order today to ensure it arrives in time for Mother's Day! Don't forget to order our Kansas City Steak Seasoning, too – we promise your mom will thank you!
Next, bookmark this page for easy reference, then tell us about your favorite Mother's Day memory in the comments below!