I'll be Home for Christmas Dinner
Tags :
christmas, 
holiday entertaining, 
recipes 
From festive holiday entrée recipes to comfort food side dishes and decadent desserts. The best Christmas dinner menu is one filled with Christmas favorites everyone loves.
So warm hearts and plates this Christmas with these sizzling Kansas City Steak Company favorites.
Christmas Dinner Ideas
Traditional Christmas dinner ideas generally involve a hearty main protein, various "comfort food" favorite side dishes and casseroles, and of course, desserts. Turkey and spiral-sliced ham are frequent holiday headliners, but if you want to take your Christmas dinner menu over the top, try one of these holiday favorites:
Tender, delicately marbled and practically guaranteed to melt in your mouth, Prime Rib Roast is one of our top recommendations for your Christmas dinner menu for many reasons. Choose between USDA Prime, Traditional Rub, Center Cut or Garlic and Herb Rub Prime Rib Roast.
Steaks and Bakes – Filet Mignon
Steaks are always the best way to elevate a special meal in our book. 4 (6 oz) Super Trimmed™ Filet Mignon and 4 (8 oz) Cheddar Bacon Twice Baked Potatoes are a festive and flavorful way to get your Christmas dinner menu started right.
Rich, tender Filet Mignon is artfully layered with savory mushroom duxelles and carefully wrapped in fluffy, flaky pastry. From frozen to flavor perfection in less than half an hour, our Beef Wellington will be a favorite for everyone at your table this year.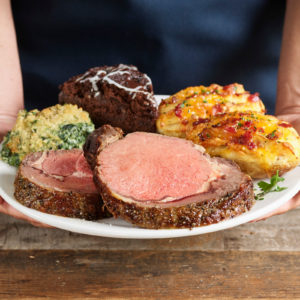 Christmas Dinner Recipes
Every year there are a few "must have" Christmas dinner dishes, but don't be afraid to try new Christmas dinner recipes, too. Start with one of our tried and true customer favorites:
Christmas Sides and Extras
Make the most of your time together and choose a few dishes and desserts that require a little less of your valuable time and effort…then spend those extra minutes where it really matters, with those you love most.
Now, skip those long grocery store lines and order your Christmas dinner items delivered straight to your door to make sure you have everything on your list in time for Christmas dinner!