Love at First Bite
Tags :
date night, 
recipes 
Get ready for sweetheart season (or any season) with one of the most romantic gestures of all: an intimate dinner at home.
Romantic Dinner
To prepare a romantic dinner they'll love at first bite, there are a few key ingredients: appropriate ambience, quality ingredients, a bit of flair and of course, romantic dinner recipes. Planning is important! (If you want to impress your sweetheart, you won't skip this step!)
Begin by choosing the date and time you'll dine together. Next, consider their dining preferences and select your menu accordingly. Choose a flavorful main entrée, one or two side dishes to enhance your entrée, and a dessert.
Once you've finalized your dining selections, it's time to choose which romantic dinner recipes you'll be preparing. Pay close attention to each recipe, and acquire all ingredients needed to pull off your romantic dinner early. Few things are more stressful than scouring the grocery store for those final two ingredients.
Romantic Dinner Ideas
Your entrée should be the shining star of your romantic dinner, so it's important to spare no expense here. There's a time and place for every steak, and a romantic dinner is no exception. Put together your own romantic menu or use one of our "done for you" menu suggestions.
Try a romantic dinner menu that's simple, and oh so sweet. Fork tender

Super Trimmed™ Filet Mignon

, served with

Twice Baked Potatoes with Sour Cream and Chive

and

Grilled Zucchini Medley

. Finish with a

decadent Chocolate Truffle Lava Cake

.
Why limit your menu to one cut of steak? Opt for an assortment of your favorite cuts in

The Essential Duo

. Choose between Super Trimmed™ Filet Mignon, Top Sirloin, Boneless Ribeyes, Kansas City Strip Steaks, and Porterhouse Steaks. With such a winning array of steaks, you'll be prepared for several romantic dinners! Add

Potatoes Au Gratin

, and

Roasted Corn, Tomato, and Mozzarella Salad with Basil Vinaigrette

for an impressive presentation. Finish with a bright

Lemon Cream Cake

.
Infuse your romantic dinner with flavors from the coast:

Surf and Turf Dinner for Two

provides a menu match made in heaven with Super Trimmed™ Filet Mignon and North Atlantic Lobster Tails. Pair with

Cheddar Bacon Twice Baked Potatoes

, followed by

New York Style Cheesecake

.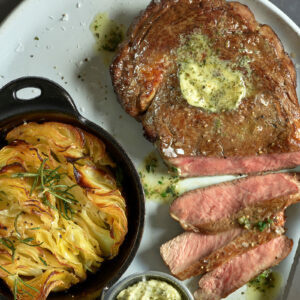 Romantic Dinner Recipes
If you're feeling adventurous, take some time to browse a sizzling selection of steak dinner recipes. Look for recipes that your partner will love and be sure to examine what each recipe entails before you decide on your final menu selections. Consider the length of time each recipe will take and be sure to only choose recipes you feel confident you can prepare.
Choose your own romantic dinner recipes, or start with one or two of our favorites:
Now you're ready for a memorable date night dinner! All that's left is the romance… and we'll leave that up to you.