Steaks with HOS Meet and Greet Menu
We've been fortunate to serve as the centerpiece for many get-togethers in your home, but it's less common for us to actually do the serving.
So when we get the chance to throw the party, we like to go all out.
A few weeks ago, the hottest summer sweepstakes came to an end. We gave six fans and their guests a chance to join The Kansas City Royals' All Star First Baseman, Eric Hosmer and his father, Mike, for an intimate, poolside steak feast.
And because we love the work they do in our city, we saved a seat at the table for a Big Brothers Big Sisters of Greater Kansas City Big and Little.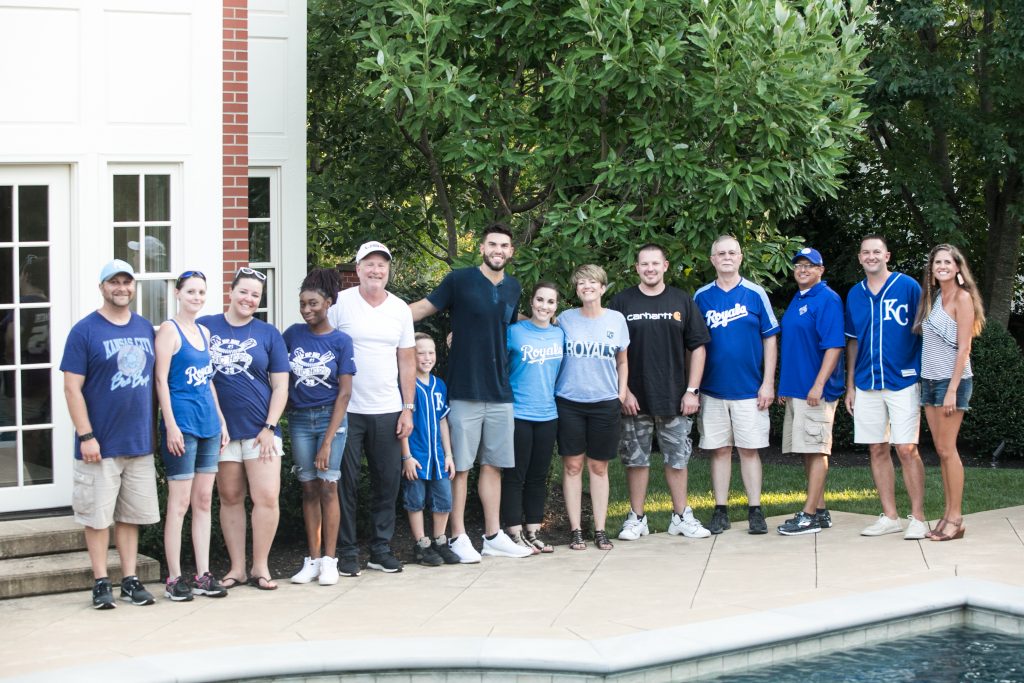 We located gracious hosts with a killer backyard and then called in the cooking troops (we happen to know a few).
Chef Eric Harland and Chef Cortney Riley from The Kansas City Steak Cook Team knocked it out of the park.
Recently, we spent a few minutes with Chef Cortney. We were curious how the experience was for her.
How did they prepare? What were they feeling? How did they select the menu?
Our steak-loving followers want to know!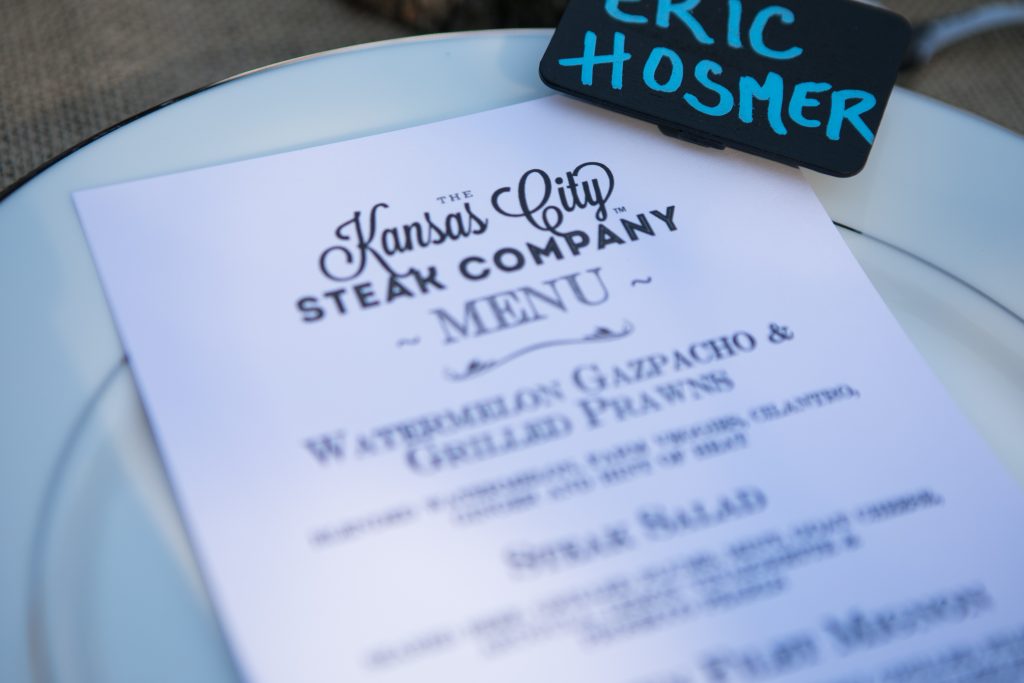 "My favorite part of the evening was just the experience of being there, creating a menu people loved, and making things work. I was so proud." Cortney said.
The scene was spectacular. Behind a gorgeous house, our guests sat poolside, on a knock-your-socks-off patio. It was a hot evening, but it didn't cool down the conversation any.
Eric and Mike Hosmer laughed, high-fived, told stories and seemed like they were right at home.
"They were really down to earth, they set the tone for the whole evening," Cortney described.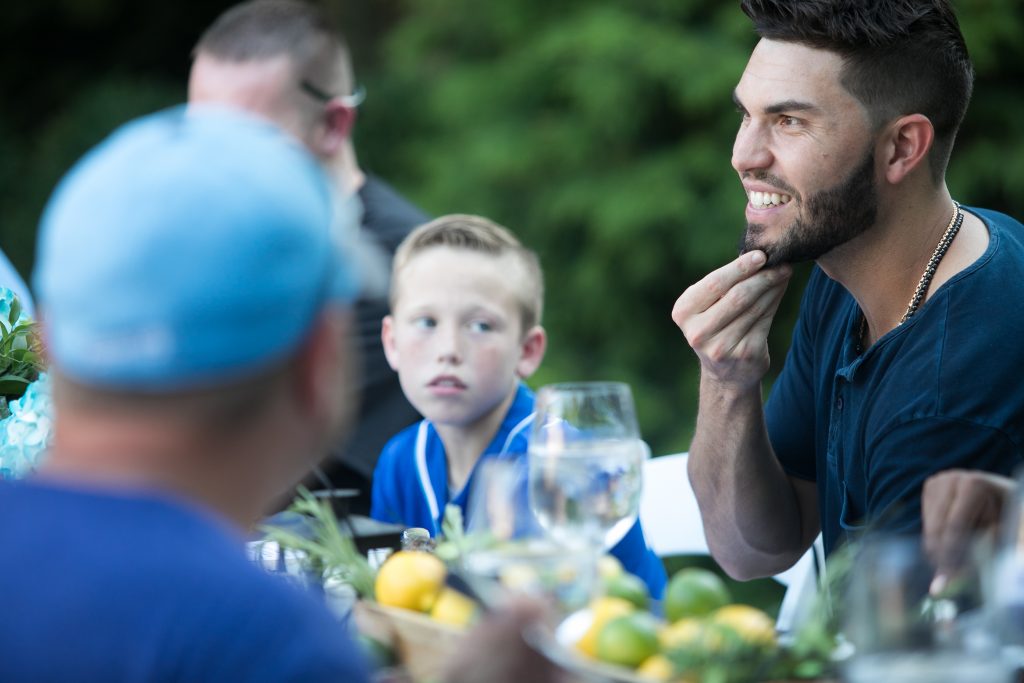 So how in the world do you select a menu for such a special event?
"We went for a backyard, steak and potatoes theme. And we made the Kansas City Steak Crown Filet Mignon® the star of the show, period." said Courtney.
The rest of the menu was rounded out with deliciousness as well. Watermelon gazpacho. Steak salad with goat cheese. To-die-for mashed potatoes. Peach cobbler with grilled peaches and bacon ice cream.
Cortney told us, "Everyone related to the menu. We used local spices, local flavors and then sat back and heard all the oooh's and aaah's."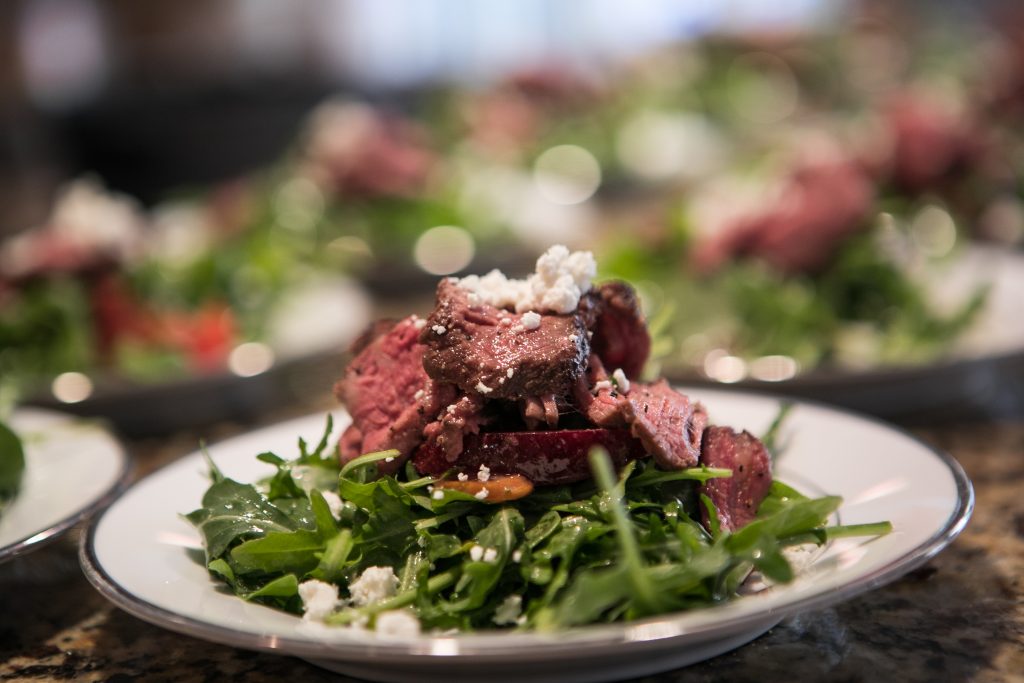 The chefs started prepping a few days before, but the real work came on the 12-hour event day itself.
They cooked in front of a live in-house crowd and the guests couldn't refrain from sneaking in for a sample or two, just like they were at grandma's house.
"It felt like a little show, we loved it."
The real show began when they started plating the courses for each of the guests.
Each course led to smiles, amazement and anticipation at what was next.
When it came time for the crown jewel, the Crown Filet®, the chefs were a bit anxious.
"We cooked these huge, beautiful crown filets and we were worried they would be too much. But everyone finished them, it was incredible."
So what was Hosmer's favorite course?
"Oh, he loved the steak and salad, but I think the peach cobbler and bacon ice cream were his favorite. His eyes were like a kid in a candy factory when I put the plate in front of him."
How can you blame him?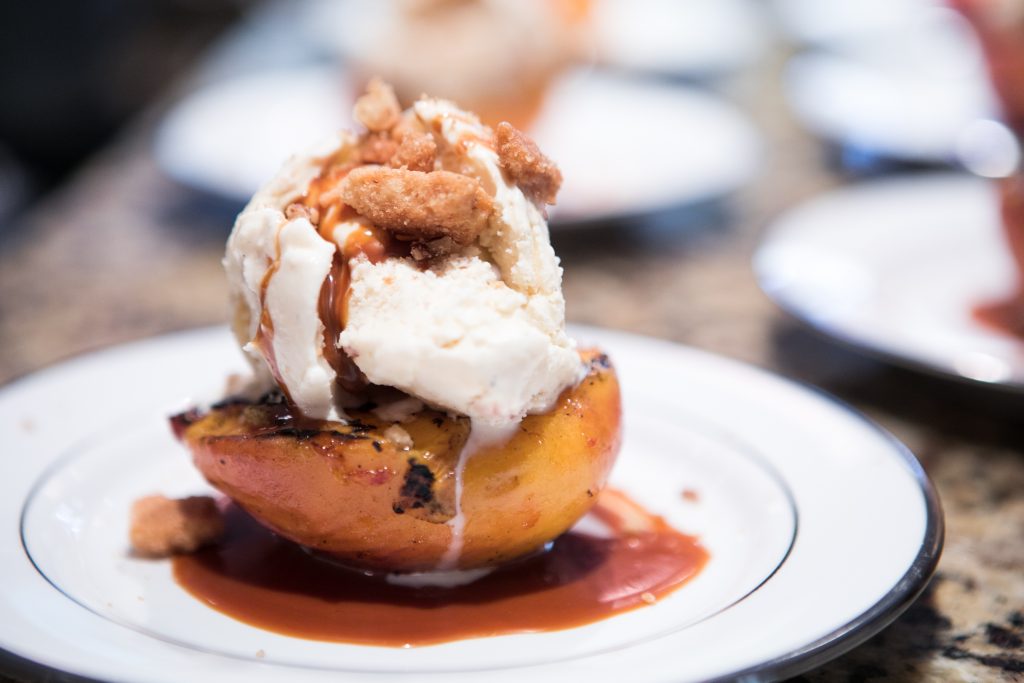 Our chefs have cooked on TV shows, national contests and other big-time events. So how did this memorable evening compare in terms of pressure and satisfaction?
"It struck me as the guests were enjoying their meal, that this all came full circle for me. I grew up in Kansas City, cooking with my father. He taught me how to cook my first steak, and during this Father's Day contest with Eric Hosmer and his dad eating our cooking, my own dad told me how proud he was that I cooked for this amazing group. It really was an exhilarating experience, and I was in awe."
We're in awe too. And we can't wait to throw our next party.
And because Chef Eric, Chef Cortney and all of us at The Kansas City Steak Company want you to throw terrific parties too, the chefs graciously provided one of the recipes they used that evening.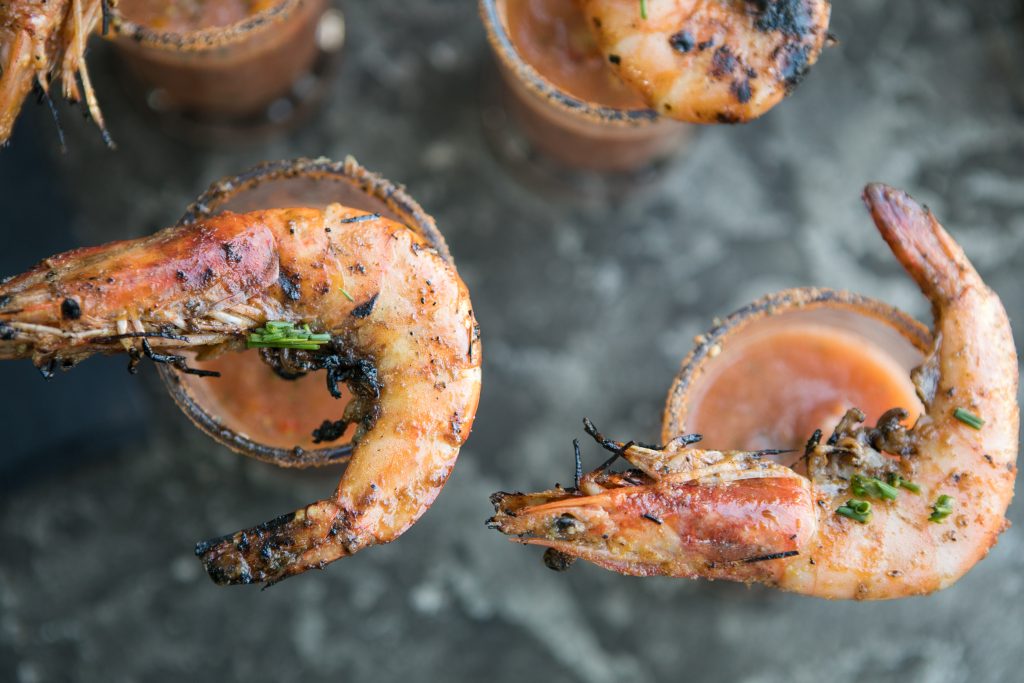 Watermelon Gazpacho Shooters with Grilled Prawns
Watermelon Gazpacho
1 cup watermelon chunks
2 cups watermelon decided into small pieces
1 cup cherry tomatoes
1 cup sweet yellow tomatoes
1 cup cucumber – green peel removed, seeded and chopped
1 Tbsp fresh ginger
1/2 cup chopped cilantro
1 Tbsp avocado oil
Roughly chop all solid ingredients and transfer them to a food processor or blender. Add lime juice and 2 tbsp avocado oil. Blend until smooth and season with pink salt and fresh white pepper. Chill in refrigerator while cooking prawns.
Grilled Prawns
12 large prawns
1/4 cup avocado oil
1/4 cup reserved watermelon juice (you can get from blending and straining the other half of the watermelon you haven't used)
2 tsp sweet and smoky seasoning (extra for seasoning)
1 tsp lemon pepper
In a large sealable bag, add whole prawns, avocado oil, sweet and smoky seasoning, lemon pepper, and reserved watermelon juice. Marinate for at least 1 hour.
To cook – use an outdoor grill for added smokiness or a good griddle pan on the stove.
Heat grill or griddle to medium high heat. Remove prawns from marinade, place on plate and sprinkle with the extra sweet and smoky seasoning. When grill is hot, grill shrimp about 3 min per side. Remove to plate and now you're ready to assemble…
To assemble – Rim small glass or shot glasses with lime juice and sweet and smoky seasoning. Pour gazpacho into glasses and top with prawns.
Enjoy!