Mouthwatering Gifts for Employees
Tags :
business gifts, 
Gifts 
Showing appreciation is so much more important than an occasional "thank you".
When genuine appreciation is communicated regularly and with sincerity, the impact can be both profound and lasting. This is true for any relationship including business relationships.
Employee Recognition
We appreciate and value the hard work every one of our employees contributes to ensure you can rely on us for high quality steaks (and more), a great buying experience, helpful customer service and more. Their dedication, commitment to excellence and attention to detail may not always make headlines, but we know just how important they and their hard work are, every single day.
We wouldn't be who we are today without our amazing employees. To recognize our team members behind the scenes in honor of Employee Appreciation Day, we're turning the spotlight toward some of their favorite products. All of which make great gifts for employees, friends, family, or yes, even yourself.
Andrew Withee, Business Development Manager's favorite Kansas City Steak Company product is Kansas City Strip Steak. He says, "Our strip steaks have a robust beef flavor with a nice amount of marbling. This makes them perfect for grilling!" And perfect for eating too we might add!
Rachel Lafferty, Marketing Manager, loves our Center-Cut Ribeye. She says, "There is so much to love about this cut. First, 10 ounces is a great size! Since it has the cap removed, it's a little thicker than your average 10 oz boneless ribeye, which is always a plus in my book!  It's a little bit leaner than an average boneless ribeye, but still full of great marbling, making it one of the most flavorful steaks. 10/10 for me!"  Well said, Rachel!
Tina Boutelle, Customer Service Manager, enjoys Bone-In Prime Rib. "The impressive presentation is hard to beat…it makes a beautiful centerpiece for family and gatherings. Ribeye is my favorite steak – most flavorful, tender and juicy!" she says. Our Ribeye Steak is carved from our exquisite Prime Rib and also makes an unbelievably tender and flavorful meal.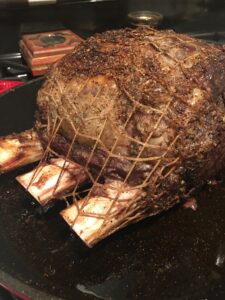 No matter your industry or field, employee recognition and employee appreciation is important. Take a cue from our employee's favorites and choose employee appreciation gifts your employees will love too.