Share the Love
Tags :
date night, 
gift ideas 
Valentine's Day is just around the corner, and it's time to "share the love" with those you care about most.
From romantic dinner ideas perfect for date night to sizzling gift ideas, nothing spreads love, joy and happiness quite like steak.
Couple Gift Ideas
The best gift ideas for couples boast a bit of variety, and plenty of opportunity for a shared experience. Why not gift your favorite couple with a gift that keeps giving?
Our Essential Duo hits the romantic dinner bullseye, featuring 2 (6 oz) Super Trimmed™ Filet Mignon, 2 (6 oz) Top Sirloin, 2 (10 oz) Boneless Ribeyes, 2 (10 oz) Kansas City Strips, and 2 (18 oz) Porterhouse Steaks.
With a generous gift of 10 steaks, they'll be on the receiving end of several romantic dinners for two, and you'll be on the receiving end of endless thanks.
Romantic Dinner Ideas
Valentine's Day is all about showing those you care for exactly how much you care, and nothing says "I love you" quite like a thoughtfully prepared, romantic dinner for two.
Our bestselling Dinner for Two is the perfect choice with 2 (6 oz) Super Trimmed™ Filet Mignon and 2 (5 oz) North Atlantic Lobster Tails. Pair it with Twice Baked Potatoes with Cheddar and Bacon and Chocolate Truffle Lava Cake for an experience that rivals your favorite steakhouse.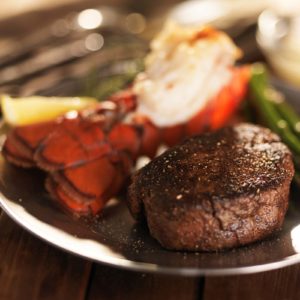 Romantic Dinner
The key to executing a romantic dinner involves planning, a delicious meal, and a romantic setting. Take your romantic dinner to the next level by elevating the ambience. Pull out the candles and use the fine china. Craft a romantic playlist or find one that sets the mood on your favorite streaming service. Next, create your menu. Start with the entree and build out your menu from there.
Or let us help you plan the perfect dinner menu. The Dinner Bell features 4 (5 oz) Super Trimmed™ Filet Mignon, 4 (7 oz) Boneless Chicken Breasts, 4 (5 oz) Twice Baked Potatoes with Cheddar and Bacon, and 4 (4") Chocolate Truffle Lava Cakes. With plenty of ingredients for two romantic dinners, you'll be set for the next important occasion, too!
Tell us your favorite romantic dinner menu in the comments below, then head on over to order everything you need to share the love with your "love" this Valentine's Day!