Sizzling Summer Grilling Tips
Tags :
grilling tips, 
summer 
Summer is here, and we couldn't be happier to be together again gathering around tables, in backyards and on patios and decks. There's no better time to brush up on your grilling skills.
Grill Cleaning Tips
The first step to a great grilling experience is a clean grill, which is best accomplished by using good grill practices every time you fire it up. Over time, grilling can cause carbon deposits to build up on the surfaces of your grill, which can promote bacteria, uneven cooking, and poor flavor as residue transfers from the grill to your meats. To keep your grill clean and ready, it's important to clean it after every use, as well as a deeper clean every so often.
Every 6-8 weeks, give your grill a more thorough cleaning, using warm, soapy water with a method like the one outlined here. By putting in the extra effort to keep your grill clean and functioning well, you'll enjoy using it for a long time to come!
Grilling Steak Tips
First, be sure your steaks are thawed. Just before grilling, pull the steaks out the fridge and place them on the counter for 30-40 minutes to rest and come to room temperature.
Season your steaks before grilling and be sure not to use a light hand. The key to great steak seasoning is to use just enough to highlight the flavor of your steak.
If you choose to use a marinade, choose a recipe with something acidic, like a citrus or lemon. If you prefer a simple seasoning, our Kansas City Steak Seasoning is a customer favorite, and is available in a convenient shaker bottle here.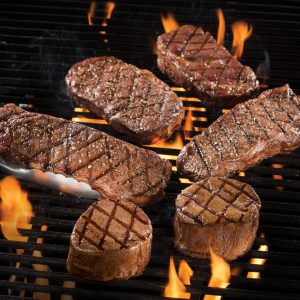 Best Steak Cuts for Grilling
If you're reading along, odds are good you love great steak, but one question we see surface time and again is "what are the best steak cuts for grilling?" The question is a valid one, and the answer varies depending on a few components. We go into all of the details in our guide here, but the bottom line is that the best steak cuts for grilling are the cuts that meet your dining needs.
Are you grilling steak for a crowd, or just your closest crew? Do you prefer a leaner cut, or something with plenty of rich marbling?
Our experience has shown some of the most requested steak cuts for grilling are filet mignon, juicy ribeyes, Kansas City strip steaks, top sirloin, and T-bone steaks, however there are a wide variety of steak options for every preference.
How to Grill Steak
The best guidelines for how to grill steak vary a bit depending on a few factors. First, whether you are using a charcoal or gas grill, and second, whether you are grilling boneless or bone-in steaks. Whatever the details, the primary points remain the same: the best way to grill steak is to sear it on high or direct heat on each side, then cook over medium or indirect heat until it reaches the desired temperature.
A word of warning: it's never wise to "eyeball it" and attempt to gauge the appropriate time to remove your steak from the grill. Instead, invest in a high-quality internal temperature thermometer and use it to check temperatures periodically. Follow our recommendations for internal temperature found here.
You're grill ready! Did we miss anything? Tell us your favorite summer grilling tips in the comments below!