Spicy Steak Spinach Noodle Bowl Recipe
January is National Soup Month. And lucky for you, our Kansas City Steak Cook Team is sharing their secret steak soup recipes. The ones they only bring out when their friends and family are over for a cold, winter dinner.
Chef Sherri Williams blew our minds with this one, we can't wait for you to try it.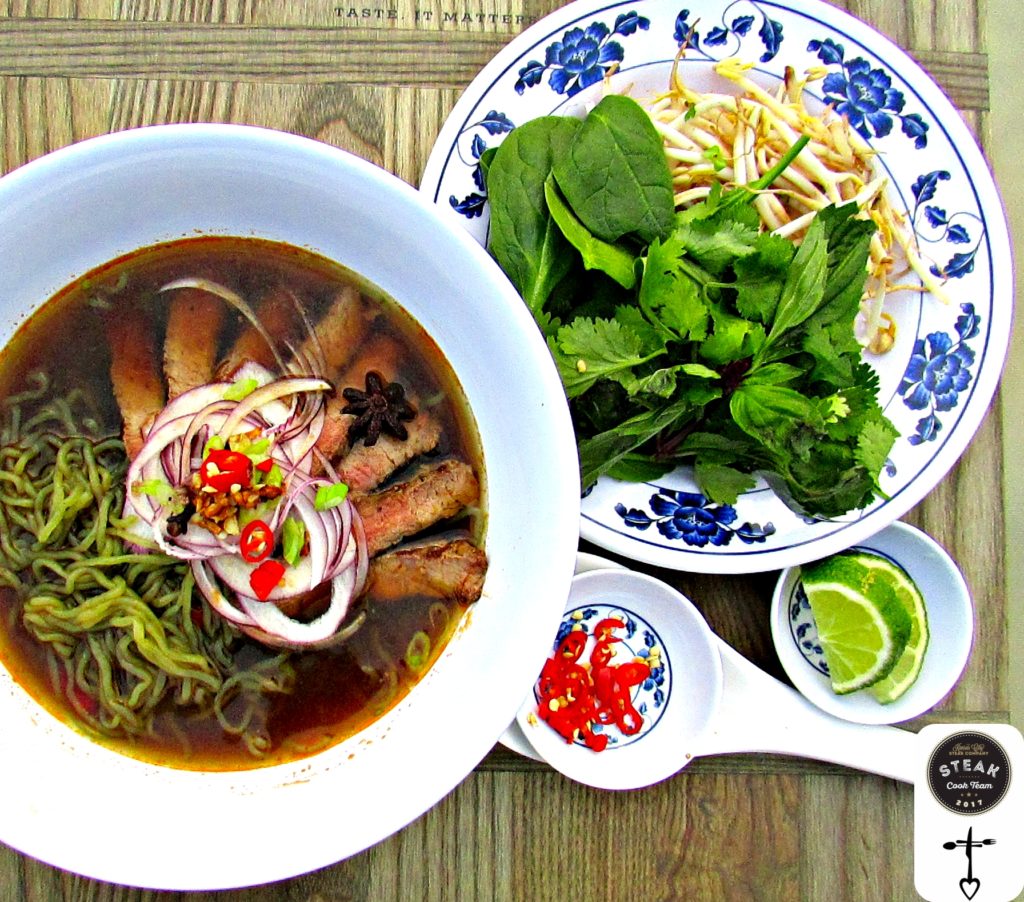 Spicy Steak Spinach Noodle Bowl Recipe
Steak:
– 4, 4-ounce Kansas City Steak Top Sirloin Steaks
– 1 tablespoon olive
– Kansas City Steak Seasoning
Beef Stock:
– 5 cups reduced sodium beef broth
– 2 tablespoons fish sauce
– 2 tablespoons soy sauce
– 1 shallot, cut in half
– 3 large garlic cloves, smashed
– 1 knob fresh ginger
– 3 star anise
– 4 cloves, whole
– ½ cinnamon stick
– 3 lime kaffir leaves
– 3-4 small chili peppers, whole
Other ingredients:
– 2, 7-ounce bags of Miracle Noodle Spinach or favorite noodle
– 1/4 red onion, thinly sliced
– 2 small chili peppers, thinly sliced
– 2 scallions, chopped
– 2-3 teaspoons fried garlic
Garnish:
– Bean sprouts
– Spinach leaves
– Thai basil leaves
– Mint leaves
– Cilantro leaves
– Lime slices

Directions:
Rinse noodles 2-3 minutes, drain and cook according to package.
Preheat grill pan to medium-high heat.
Drizzle olive oil on steaks and sprinkle with steak seasoning.
Place steak on hot grill pan. Grill for 2-3 minutes per side or desired done-ness. Remove four steaks from grill pan and rest for 5 minutes. Slice thinly on a bias.
Meanwhile add beef stock ingredients to a sauce pan.
Bring to a boil, reduce heat and simmer for 20-25 minutes. Pour stock through a strainer so you have only liquid. Return stock to stove to keep hot.
Place noodles in 4 bowls, pour hot stock over noodles.
Top with steak slices, red onion, scallions, chili pepper and fried garlic.
Serve with bean sprouts spinach leaves, Thai basil leaves, mint leaves, cilantro and lime slices.
Then, enjoy!