Top Christmas Gifts
Tags :
Christmas gifts, 
gift ideas 
The stockings are all hung by the fireplace, the tree is trimmed, and festive plans for a joyous Christmas together again are in full swing.
There's no question the most wonderful time of the year has arrived.
This year give the gift of an experience – mouthwatering flavor and new memories shared.
Christmas Gift Boxes
Skip the gift-wrapping frenzy this year and choose a ready to gift option with elegantly packaged gift boxed steaks. Skip the store (and the wrapping) and order your gifts to be shipped directly to their doorstep. You'll love the simplicity and convenience of these Christmas gift boxes so much; you'll never go back!
Classic Steak Sampler Gift Box
Give the gift of good taste with our premium Classic Steak Sampler Gift Box. Six delicious steaks are packaged in our premium gift box and include 2 (8 oz) Super Trimmed™ Filet Mignon, 2 (12 oz) Kansas City Strips, and 2 (10 oz) Boneless Ribeyes. Perfect for everyone from professional to personal contacts, the only lingering question you'll have is whether to order one for yourself, too.
Christmas gifts will never be the same with our generous Classic Steak Gift Box Combo. Perfect for the entertainer, this premium gift includes 4 (8 oz) Gift Boxed Super Trimmed™ Filet Mignon, 4 (10 oz) Gift Boxed Boneless Ribeyes, and 4 (12 oz) Gift Boxed Kansas City Strips. The grill master on your gift list will be so impressed, they might invite you over for dinner!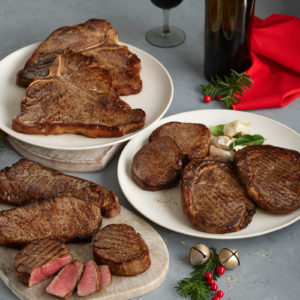 Christmas Gift Sets
Shopping for Christmas gifts can be fun, but figuring out what to get for Christmas isn't always easy. We all want to find the perfect gift that expresses how much we love and appreciate each person on our gift list. This year, we're making it easy. Choose one of our bestselling Christmas gifts:
No one does steak, quite like Kansas City. Share the best of Kansas City with our Welcome to Kansas City Collection. 4 (8 oz) Super Trimmed™ Filet Mignon paired with 4 (10 oz) Kansas City Strips is the perfect gift for any steak lover on your list no matter where they call home. Pair with our Black Truffle Finishing Butter and Kansas City Steak Seasoning to take your gift over the top.
For the family on your list, we've put together something extra special. The Dinner Bell includes all the ingredients of a phenomenal spread: 4 (5 oz) Super Trimmed™ Filet Mignon, 4 (7 oz) Boneless Chicken Breasts, 4 (5 oz) Twice Baked Potatoes with Cheddar and Bacon and 4 (4") Chocolate Truffle Lava Cakes.
Our Essential Duo has everything you need to impress. When we say "essential," we mean it. With 2 (6 oz) Super Trimmed™ Filet Mignon, 2 (6 oz) Top Sirloin, 2 (10 oz) Boneless Ribeyes, 2 (10 oz) Kansas City Strips and 2 (18 oz) Porterhouse Steaks, the recipient of this crowd pleaser will have no doubt they made the "nice" list this year.
What do you get for Christmas for the person who already has everything? Steak! A gift loaded with flavor and variety.
So order your choices today, then sit back and enjoy your Chocolate Chip Cookie Cups and milk!