Your Go-To Summer Entertaining Guide
Tags :
entertaining, 
recipes 
From lazy pool days to warm nights on the patio, and everything in between. We're making summer sizzle with all the best outdoor entertaining ideas, recipes for entertaining food and more.
Outdoor Entertaining Ideas
The best outdoor entertaining ideas include family and friends, great entertaining food, cool drinks and plenty of laughter and memories being made.
Choose a theme for your gathering and build your ideas from there! Whether you decide to host a pool party and BBQ, a delicious steak dinner, a "ball park at home" theme party, or all three, a little extra effort will ensure a fun and memorable experience for you all your guests.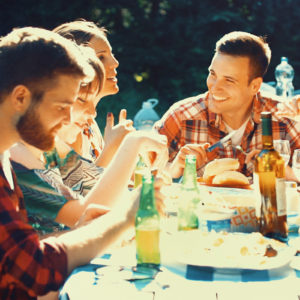 Entertaining Food
If you're planning a pool party, play into the water theme and plan your entertaining food menu around the ever popular Surf 'n' Turf. Choose Kansas City Strips, Ribeyes, and Filet Mignon, and pair with North Atlantic Lobster Tails, Maryland Style Crab Cakes, or Shrimp Wrapped in Bacon.
For a steakhouse at your house theme, try a steakhouse inspired recipe like Filet Mignon with Herbed Butter, Grilled Steak with Steakhouse Mushrooms, or Blackened Steaks with Caramelized Onion Sauce. Pair with simple steakhouse sides like Cheddar Bacon Twice Baked Potatoes, grown up Mac & Cheese, or summer salad.
Nothing says "ballpark" like easy, delicious food you can carry and eat, so why not make the most of it? Put together a variety of delicious kabobs like Grilled Shrimp Kebobs, Beef Kabobs, or even Vegetable Kabobs, or serve a summery Steak Fajita bar with all the toppings! If you'd rather go with a more traditional ball park favorite, check out our guide to the best hot dog bar ever.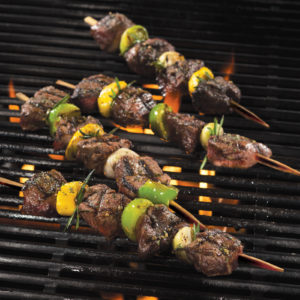 Easy Entertaining for a Crowd
The most important key to easy entertaining for a crowd is to plan ahead. Follow these three tips for a successful party.
Sort out your menu well in advance and order meats online ahead of time to ensure delivery in plenty of time for your gathering.
Make a "week of" checklist including when you need to move meats to the refrigerator to thaw so you aren't caught off guard the morning of your event.
Be sure to check your recipes for special ingredients, and don't forget the condiments, drinks, ice and desserts.
Enjoy being together again with our summer entertaining plan for success! Be sure to come back and let us know how everything goes.