Kansas City Steaks Bestselling Combo Packs
Tags :
steaks 
There are few things as sweet in the day-by-day as completing multiple tasks at once. Mastery of such synergy promises you will have more time to sip wine while reading, more time with family and friends, or just enough sleep to get up early and complete your morning workout – assuming you haven't completely abandoned your New Year's goals.
Above all, the surprise of knocking several things off of your to-do list relieves stress. Even if the idea of having time to yourself is laughable, putting a few checkmarks in boxes and hearing that satisfying ding picks up your spirit, if only a little.
To help you feel that lift, we've pulled together a list of our best-selling combo packs.  These packs combine variety and savings to assist in taking care of a couple meals at a good price.
So, take a peek below, pick your pack and uncork a bottle of wine. You've just landed the main event for several dinners, and that's got to feel freeing.
One of our best combos is the Welcome to Kansas City Gift. This combo can be used to educate KC newcomers on just how fortunate they are to live in the undeniably best city in the country, or to ship the tastes of KC to wherever you call home.  It features 4 Supper Trimmed Filet Mignons and 4 Kansas City Strips.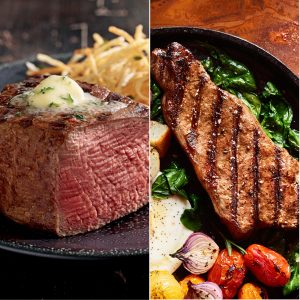 This collection of steaks features 5 of our best, most mouthwatering cuts (Filets, Ribeyes, Strips, Sirloins and Porterhouse). Each steak comes in a pair, making it perfect for creating 5 cozy dinners for two.  Pick this up and know you've got the framework for 5 romantic date nights.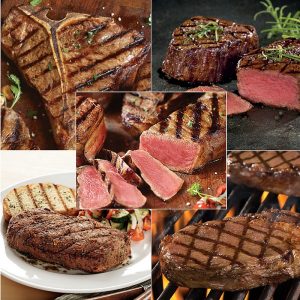 If you're looking to knock out a few more dinners, or if you have a few more mouths to feed, look at our Tour of Good Taste.  This pack comes with 4 KC Strips, 4 Chicken Breasts and 8 Classic Steakburgers. This combo was designed for utility: If you're dealing with little mouths that haven't quite matured enough to appreciate a good steak, you can switch to the still high-quality Steakburger.  If someone feels more like chicken, you've got them covered.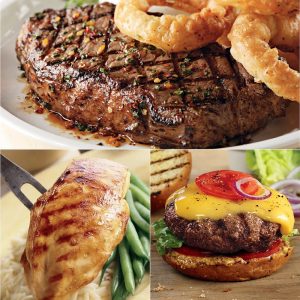 If these three combos don't quite meet your needs, take a gander at some of other combos here. One way or another, you'll find something you love.
Keep eating, steak lovers!